February 15
With so many wedding ring options out there it can be difficult to pick the right one for you. This guide is about finding the right shape that looks great with your engagement ring whether you're looking to jazz it up or subtly complement it.
To begin with, let's take a look at some fitted wedding rings. A shaped or fitted wedding ring refers to a ring which is specifically designed to sit close to an engagement ring. I designed the wedding rings on my website to fit around the engagement rings I make. I specifically made the wave wedding ring to gently wrap around the trilogy rings, although the wave band works well with almost all of my engagement rings.
Fitted wedding rings are a good option if you are looking for something to sit closely up against your engagement ring. They come in many different shapes and some names you may be familiar with are wishbone, curved, shadow, half hoop and chevron. Each shape creates a different look depending on your engagement ring.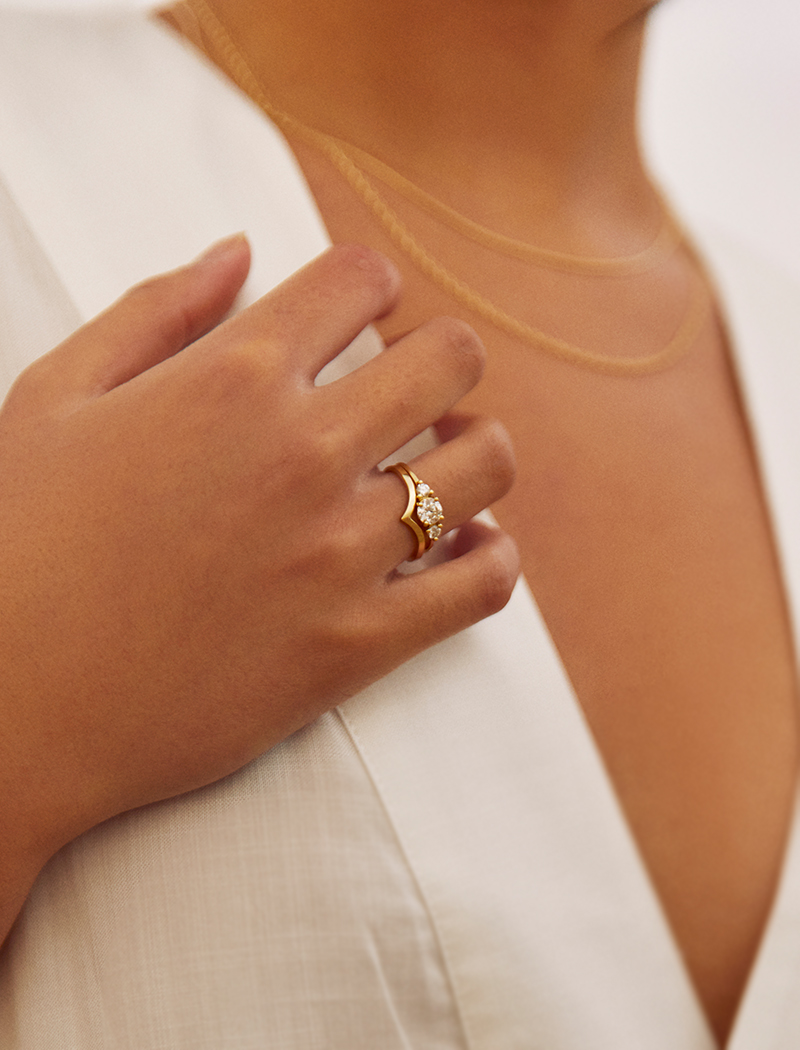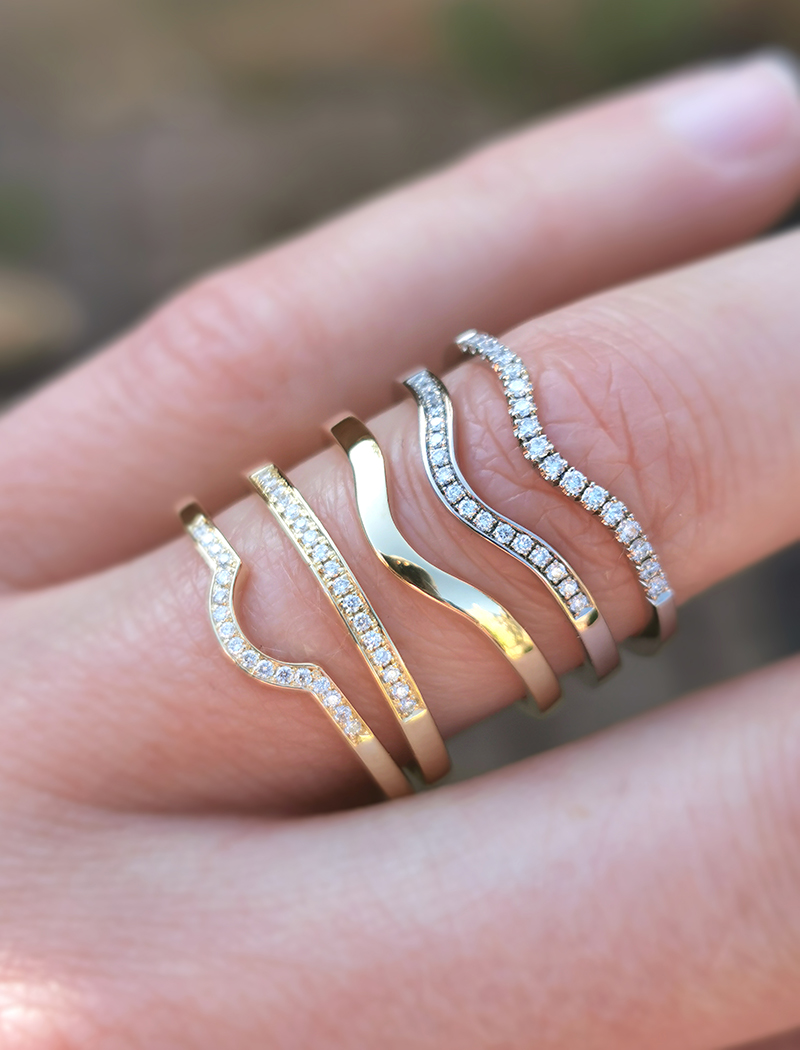 Moving onto a straight wedding band. Placing a straight edged wedding band next to some engagement rings can create a gap between the two. I really like the look created by this gap as it separates the two rings so they appear as two distinct pieces. It's also great if you want to wear your wedding ring on its own but is still important to make sure the two complement each other.  
Those who may find it more convenient to remove their engagement ring for work might opt for a straight wedding band they can wear all of the time, perhaps only wearing their engagement ring on the weekends or for special occasions.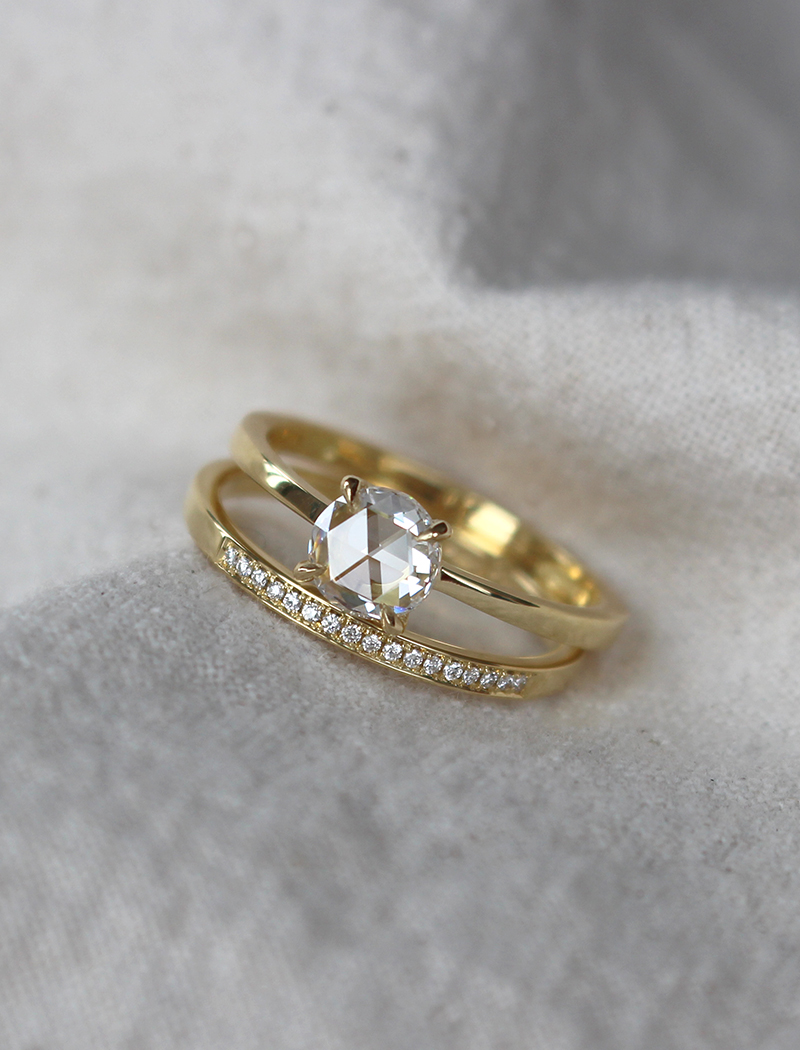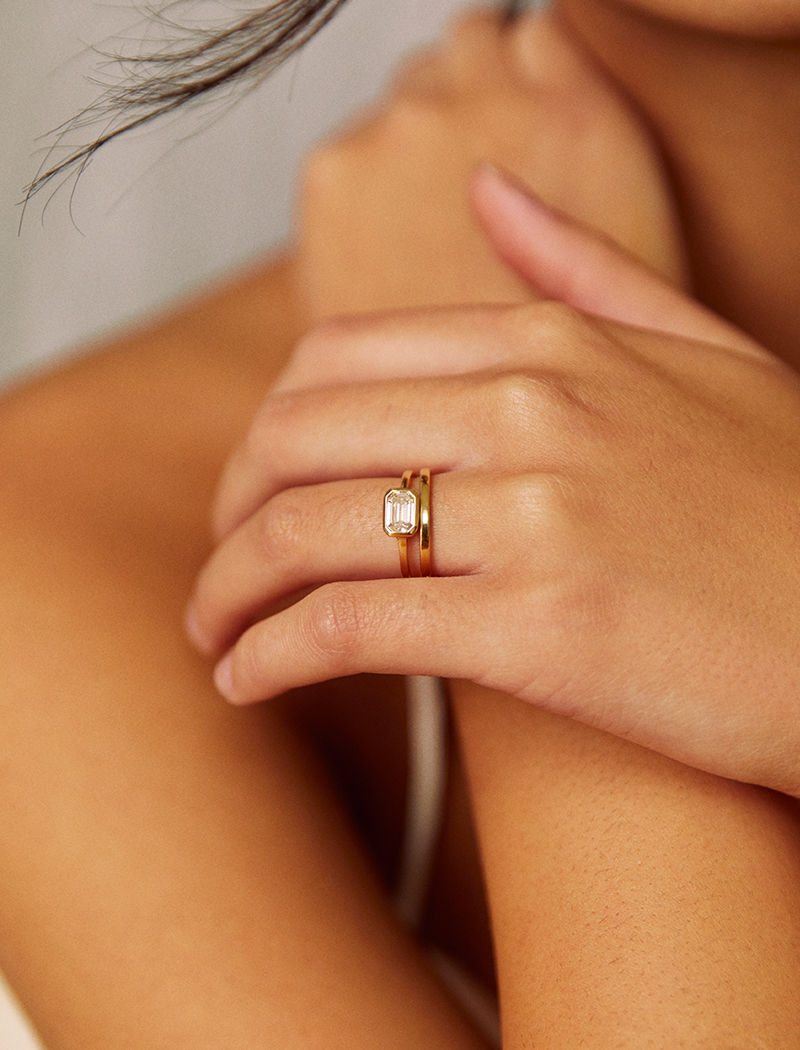 Let's now talk about stackers! Stacking rings are usually quite fine and relatively thin allowing more space to create a stacking effect with your jewellery. More is more right!? Wedding band stacks are becoming increasingly popular as it gives you the opportunity to switch the rings around creating different looks for different occasions. Another great thing about stacking rings is that you can add to your collection over time and have fun by customising. 
Engagement rings are often a surprise so your wedding ring is something you and your partner can both get involved with. It's not all about the engagement ring, your wedding band can be just as special and really reflect your personality.
---
"Rosie designed and made my engagement and wedding rings and they are absolutely beautiful. Rosie was a pleasure to work with, I had a clear idea of what I wanted for my wedding ring and she was great at communicating to make sure it looked exactly how I wanted. I couldn't recommend Rosie more"
– Jodie.B.